In my September Zoom class, you will learn how to create a mouthwatering Blueberry Pastry Cheesecake Pie! Indulge in the delightful combination of a buttery and tender pastry base, a smooth and creamy cheesecake filling, and a delicious blueberry topping. Join me for an immersive online baking experience where I'll guide you through each step of the recipe, ensuring your Blueberry Pastry Cheesecake Pie turns out absolutely divine.
Here are the details you need to know:
When: Tuesday, 26th September
Time: 6:00 pm (GMT) | 1:00 pm (EST)
Location: ONLINE (via Zoom)
What to Expect:
During this 1.5-2 hour livestream cooking class, I will share invaluable insights and techniques to help you create a truly exceptional dessert. Whether you're a seasoned baker or a passionate novice, this class is designed to be enjoyable and accessible for all skill levels.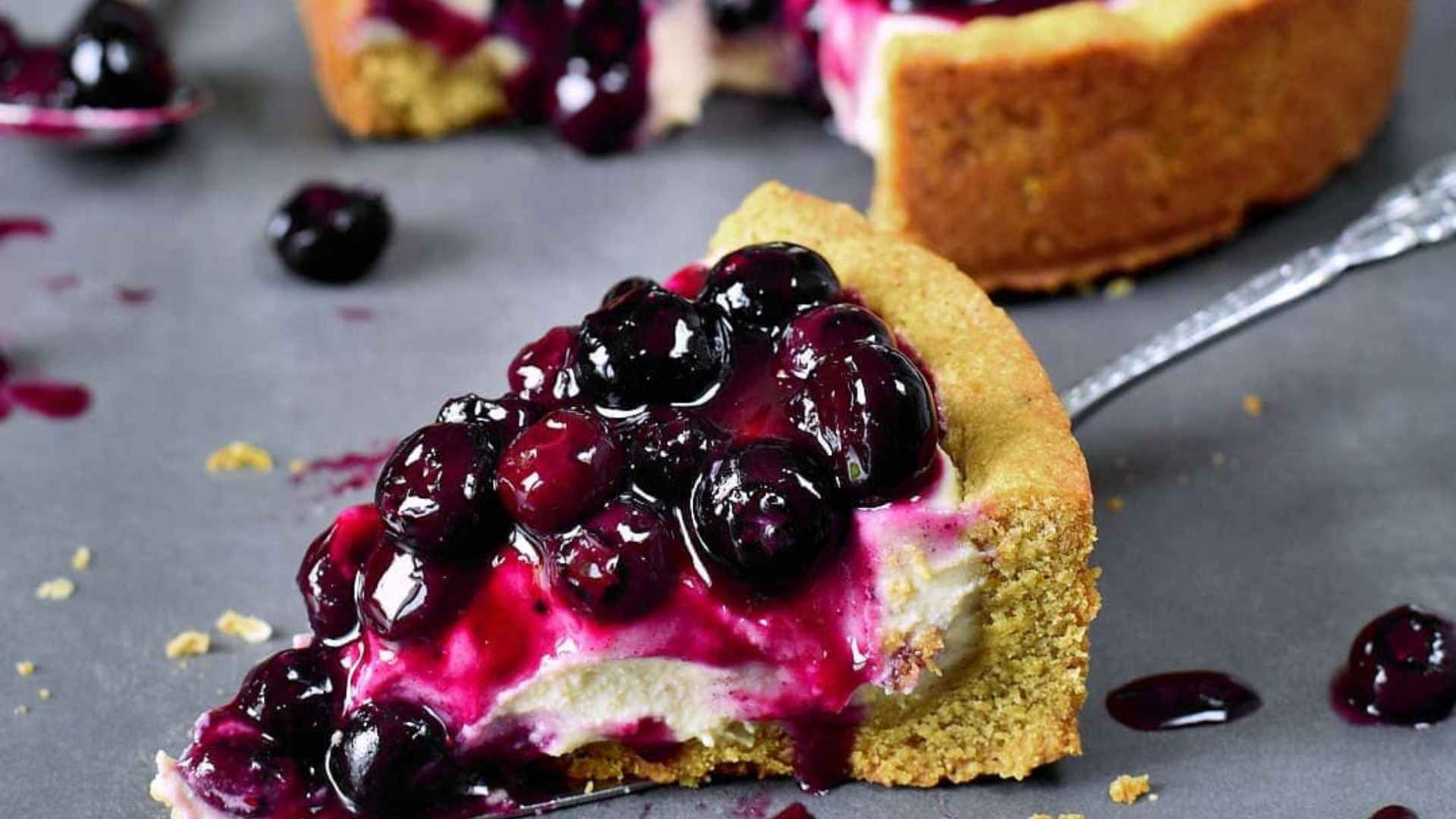 Here's a glimpse of what we'll cover:
Creating a Buttery and Tender Pastry Base: Master the art of crafting a pastry base that is delightfully buttery and tender. I'll provide you with expert tips and tricks to achieve the perfect texture, ensuring your Blueberry Pastry Cheesecake Pie has a solid foundation.

Crafting a Smooth and Creamy Cheesecake Filling: Discover the secrets behind creating a smooth and velvety cheesecake filling. I'll teach you the techniques to achieve a perfect balance of creaminess and tanginess, resulting in a truly decadent treat.

Preparing a Delicious Blueberry Filling: Elevate your pie with a mouthwatering blueberry filling. I'll guide you through the process of creating a vibrant and flavorful filling that will burst with the sweet and tangy goodness of fresh blueberries.

Assembling, Cutting, and Decorating: Once our fillings are ready, it's time to assemble, cut, and decorate our Blueberry Pastry Cheesecake Pie. I'll walk you through the steps, sharing techniques to create an eye-catching presentation that will impress both your eyes and taste buds.
Preparation:
To ensure you're fully prepared for the class, a list of ingredients will be provided in advance. Gather everything you need, and get ready to embark on this delightful baking adventure with me.
What's Included:
You'll receive a PDF recipe with detailed directions for everything we covered during the session. This way, you can recreate this delectable Tyrolean Pie with Pastry Cream & Berries whenever your heart desires!
Join me on Tuesday, 26th September, for an exciting online baking class where you'll have the chance to master the art of creating a delectable Blueberry Pastry Cheesecake Pie. This interactive session is designed to empower you with new skills and techniques, ensuring that you can craft a sensational dessert that will leave everyone craving for more. Secure your spot now and get ready to embark on a delightful baking adventure from the comfort of your own kitchen. I look forward to seeing you there!